The UN General Assembly has adopted a resolution "Furtherance of Remedy and Reparation for Aggression against Ukraine," which was prepared by Ukraine and co-sponsored by more than 50 countries.
Ninety-four countries voted in favor of the resolution, 13 voted against the document, and 74 abstained.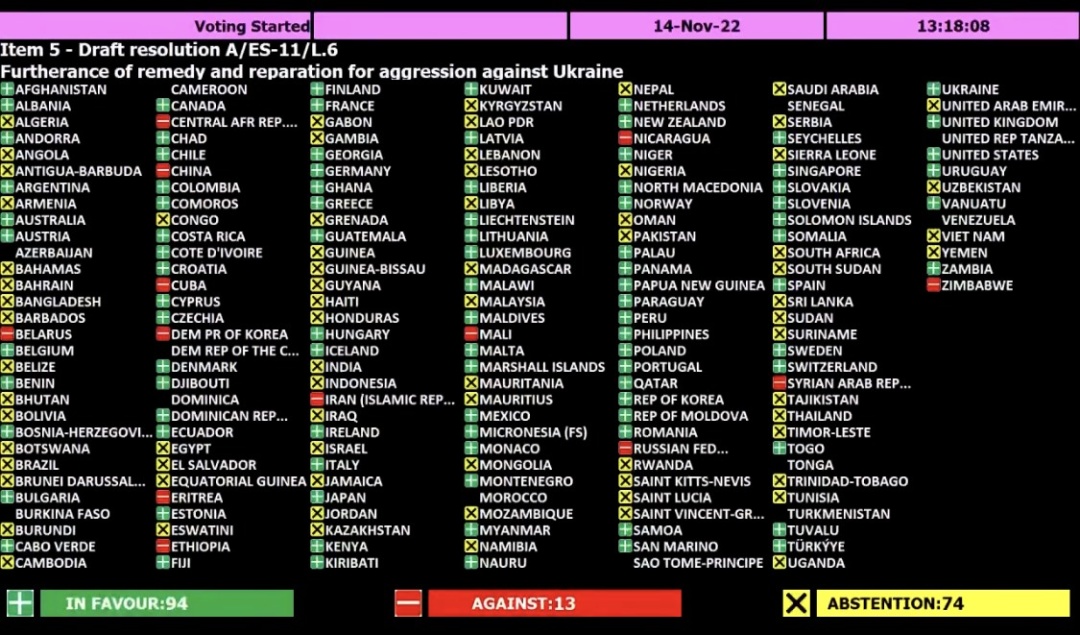 The resolution reaffirms the commitment of UN Member States to the sovereignty, independence, unity and territorial integrity of Ukraine and its demand that the Russian Federation immediately cease its use of force against Ukraine and that the Russian Federation immediately, completely and unconditionally withdraw all of its military forces from the territory of Ukraine within its internationally recognized borders.
The General Assembly recognizes that Russia must be held to account for any violations of international law in or against Ukraine, including its aggression in violation of the Charter of the United Nations, as well as any violations of international humanitarian law and international human rights law, and that it must bear the legal consequences of all of its internationally wrongful acts, including making reparation for the injury, including any damage, caused by such acts.
Also, the General Assembly "recognizes the need for the establishment, in cooperation with Ukraine, of an international mechanism for reparation for damage, loss or injury."
The document "recommends the creation by Member States, in cooperation with Ukraine, of an international Register of Damage to serve as a record, in documentary form, of evidence and claims information on damage, loss or injury to all natural and legal persons concerned, as well as the state of Ukraine, caused by Russian Federation's internationally wrongful acts in or against Ukraine, as well as to promote and coordinate evidence gathering."
Больше новостей – в Telegram-канале
#FREEДОМ